ASCE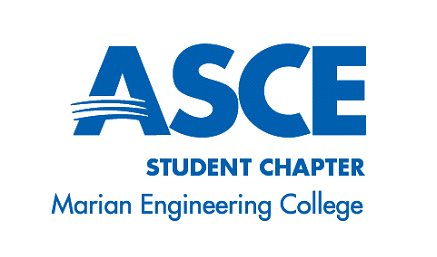 ASCE Student Chapters allow members to mature to their professional status more rapidly by providing support to supplement the education programs for the development of professional autonomy. ASCE Student Chapter participation instills a commitment by providing a link between practice and education. For the student who excels at problem solving and laboratory work, the ASCE Student Chapter offers another opportunity for proving excellence and expanding knowledge. For the student who encounters difficulty with class work, the ASCE Student Chapter may be inspirational in encouraging a different approach toward civil engineering. In addition, contact with professors and practitioners in an out-of-classroom setting are important aspects of student development. Students are often able to model their behavior after that of an individual or of an idea constructed of the characteristics of several civil engineers who provide assistance to the ASCE Student Chapter.
Civil engineering career can take students anywhere. Membership in the American Society of Civil Engineers (ASCE) offers student members access to more resources and opportunities in the civil engineering profession than any other association.
The American Society of Civil Engineers, the oldest national professional engineering society, was founded in 1852 with an objective to enhance the
welfare of humanity by advancing the science and profession of civil engineering.
ASCE ORGANIZATIONAL STUCTURE
There are nine regions in North America, and one region, Region 10 for the rest of the world. Society members are organized by small local groups called Branches. Branches are grouped together into Sections. Sections are grouped together into Regions.
The ASCE India International Section (ASCE-IS) WAS Established in 1989.
The India Section is divided into four Regions (East, West, North, and South) which operate under the central body of ASCE-IS with representations from all 4 Regions.
ASCE STUDENT CHAPTER MARIAN ENGINEERING COLLEGE was recognized on August 31, 2021 and issued the CHARTER on September 2, 2021.
---
THE OFFICE BEARERS OF THE ASCE STUDENT CHAPTER 2022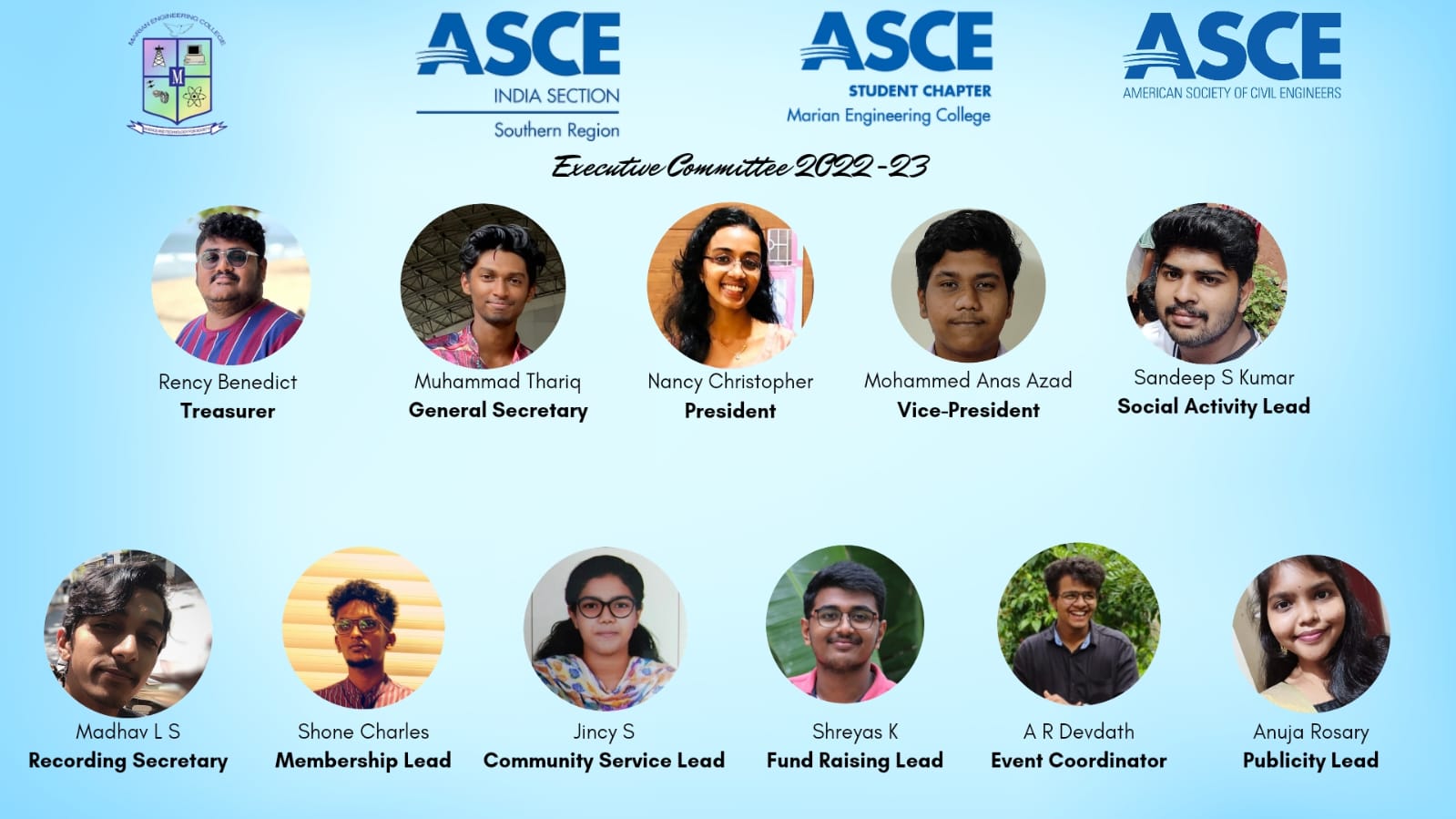 ACTIVITIES IN 2022-23
ASCE student chapter in association with IEI Student chapter organized an Industrial Visit to Harbour,Thangassery, Kollam on 9.12.2022 with S7 students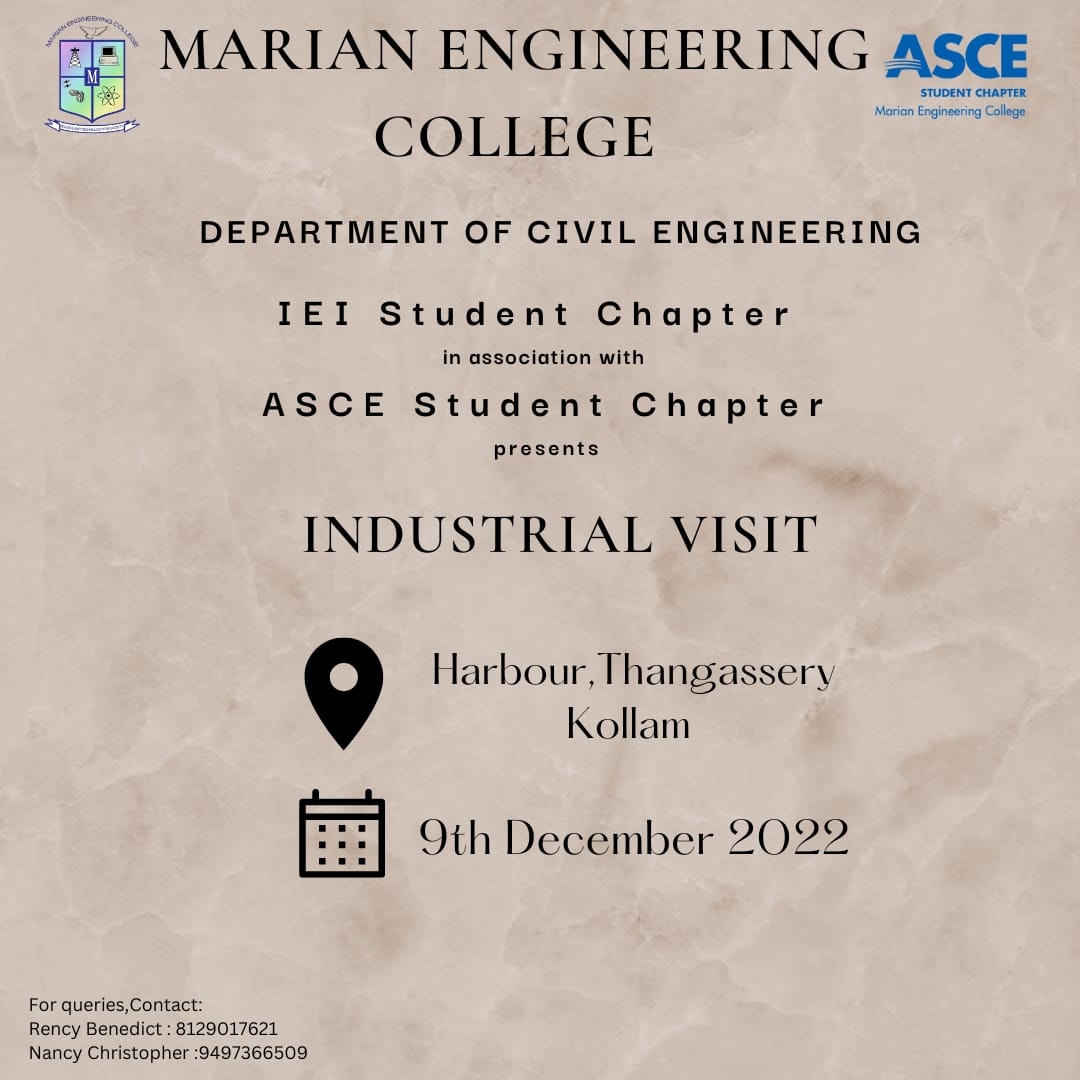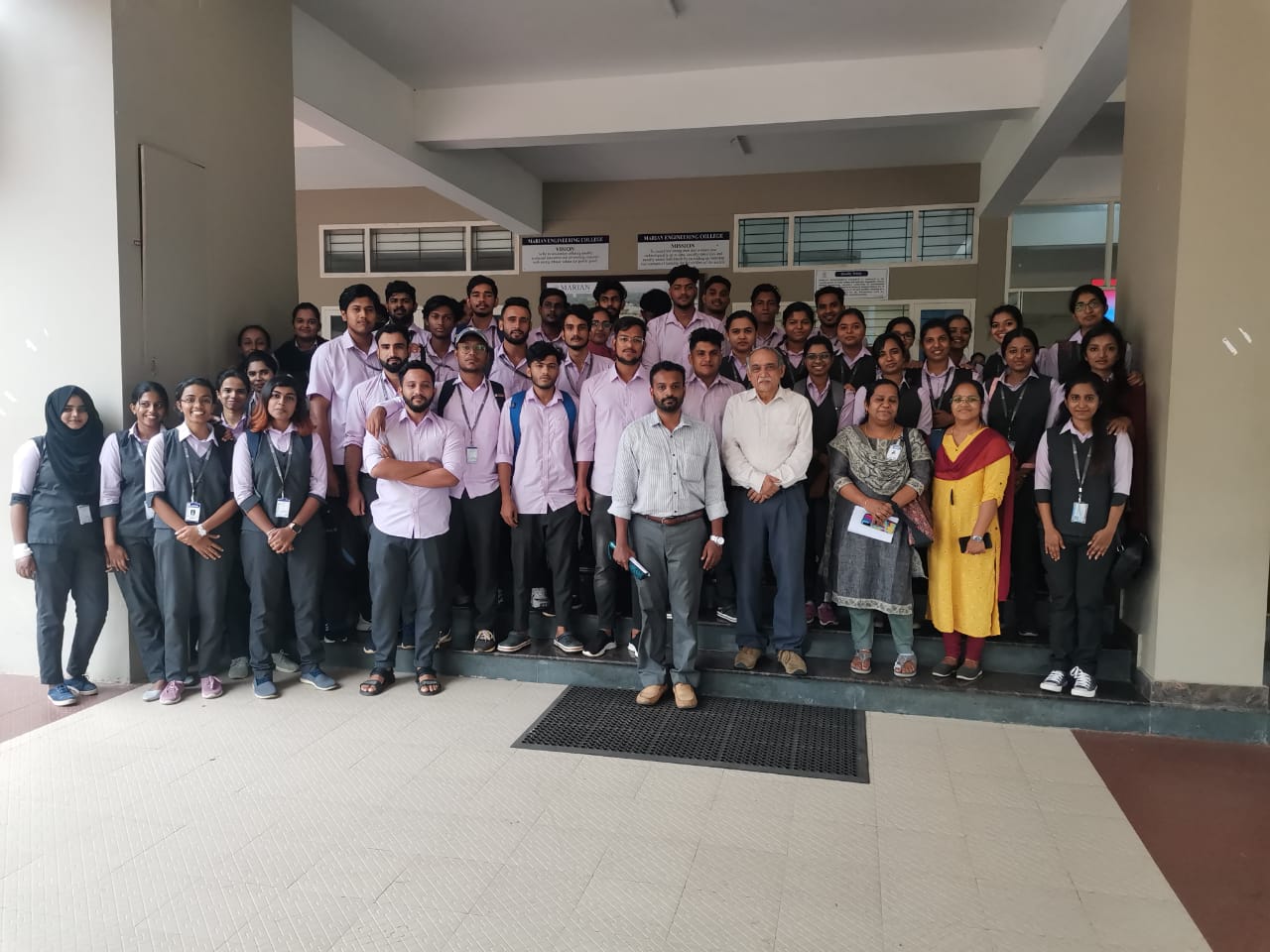 Conducted a Building plan drawing competition on 8.12.2022 in Civil drawing hall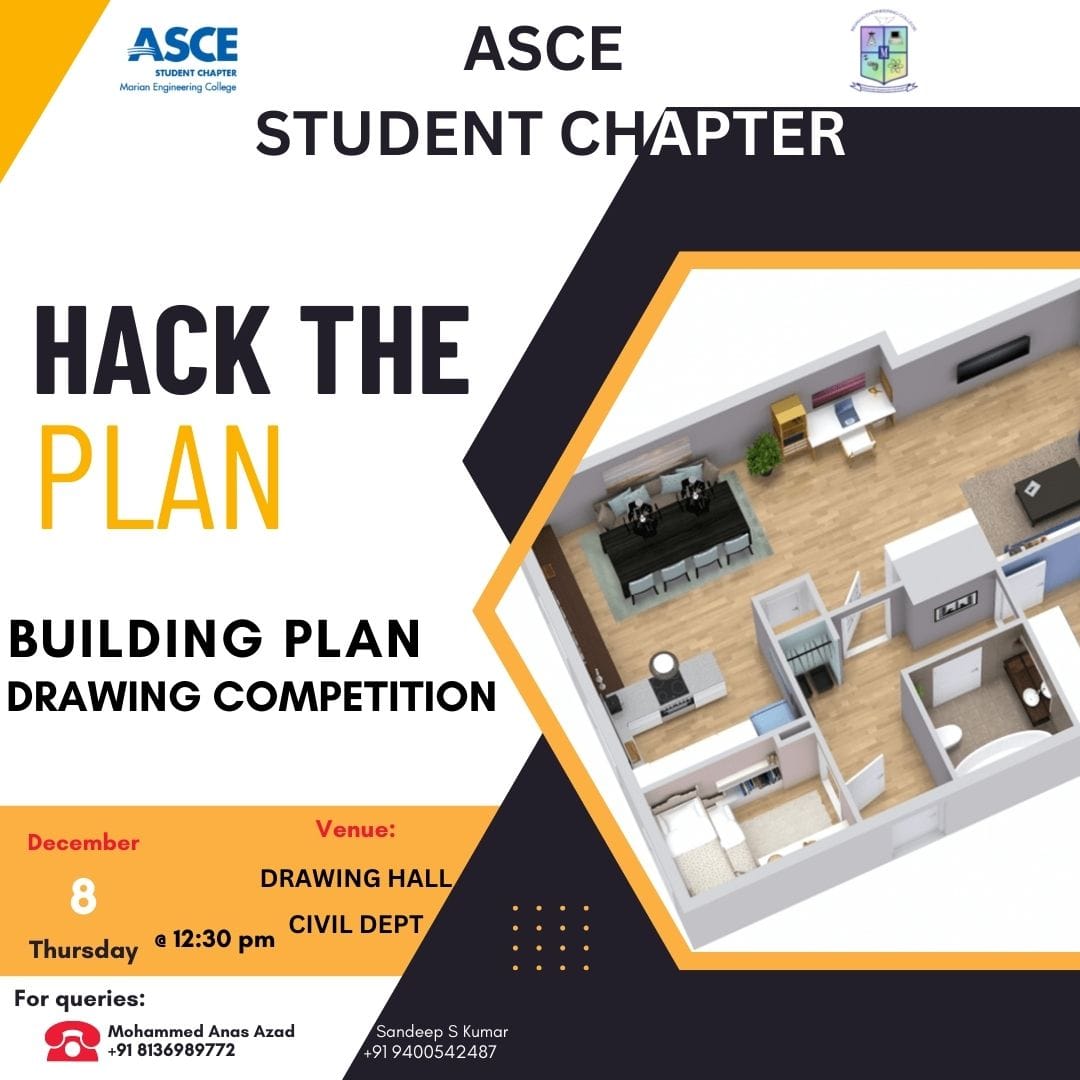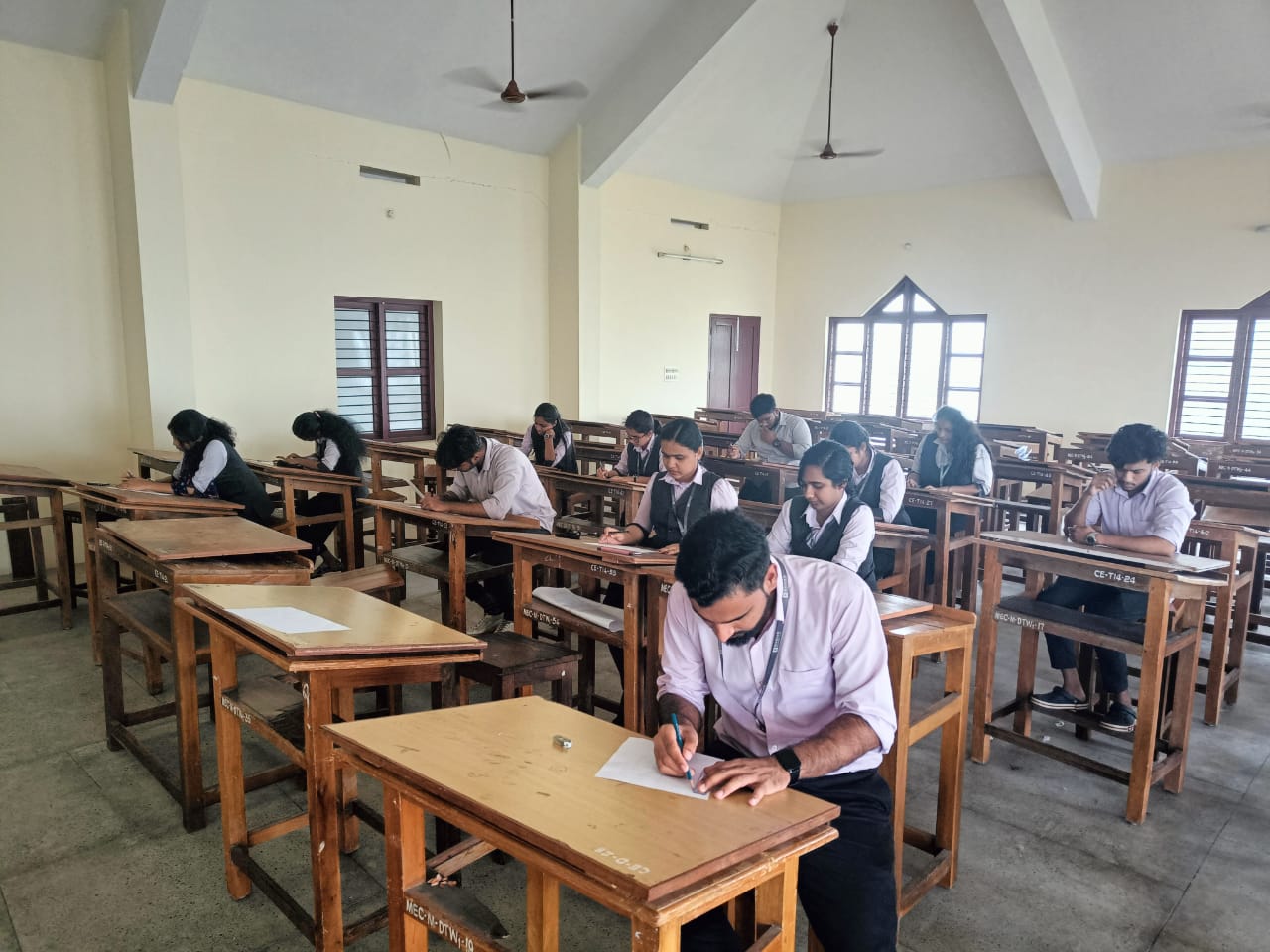 Conducted "Quizzo-the technocal quiz competition" on 7.12.2022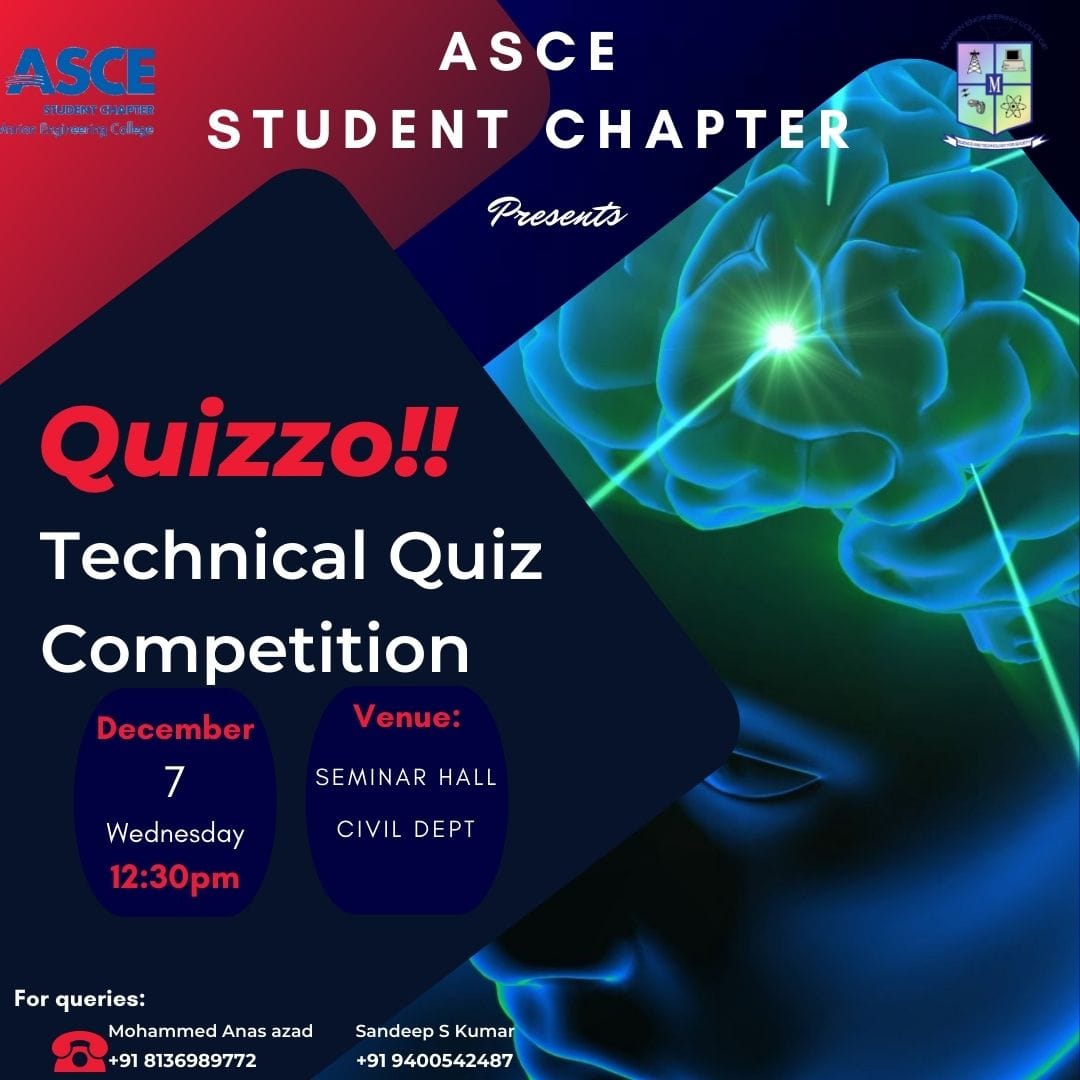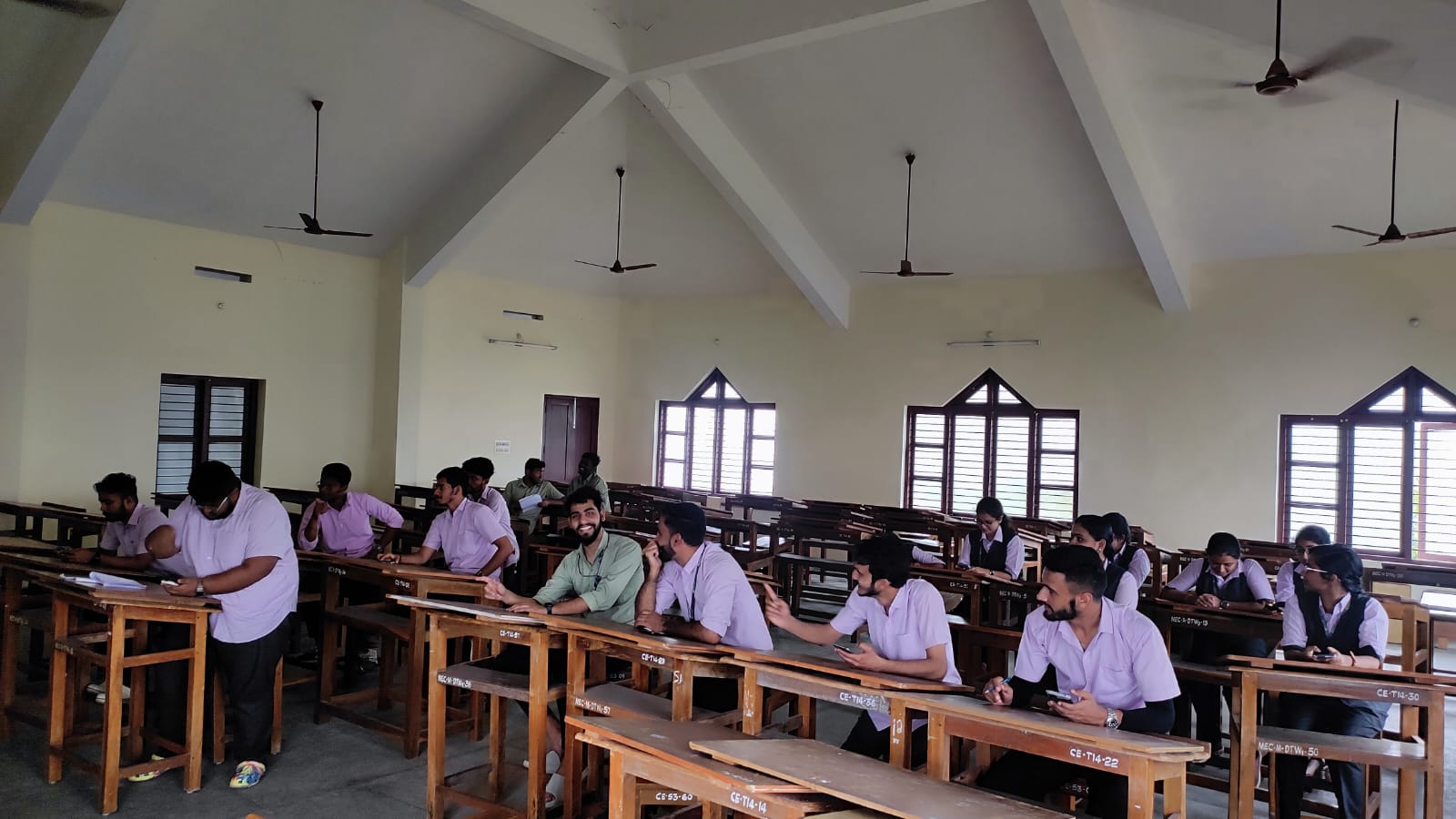 THE OFFICE BEARERS OF THE ASCE STUDENT CHAPTER 2021

FACULTY ADVISOR - DR NARAYANAN S
FACULTY ADVISOR - PROF RENJU C.M.
1 PAST PRESIDENT - JAYAKRISHNA JAYAPAL
ELECTED POSITIONS
2 PRESIDENT - MUSHTAQ AHMAD BHAT
3 VICE PRESIDENT - JIBIN SAJEEV
4 GENERAL SECRETARY - MEHAR TARIQ ITOO
5 RECORDING SECRETARY - GOVIND S S
6 CORRESPONDING SECRETARY - ABHIRAM V P
7 TREASURER - SREELEKSHMI S.V.
8 EVENT COORDINATOR - SHALIMA R S
9 EVENT CO-ORDINATOR - SRADHA B
10 EVENT COORDINATOR - M LAKSHMI
11 PRINT MEDIA AND PHOTO - JUNAID AHMAD TEELI
STANDING COMMITTEES
12 MEMBERSHIP COMMITTEE - MYDHILLY S KUMAR
13 SOCIAL ACTIVITY COMMITTEE - SAFINA J N
14 PUBLICITY COMMITTEE - RADHIKA G
15 FUND RAISING COMMITTEE - NAVAS N S
16 COMMUNITY SERVICE COMMITTEE - FARZANA N
17 EVENTS HEAD - KALYANI S
THE OFFICE BEARERS OF THE FOUNDATION YEAR OF THE ASCE STUDENT CHAPTER 2020

FACULTY ADVISOR - DR NARAYANAN S
FACULTY ADVISOR PROF - RENJU C.M.
1 PRESIDENT - JAYAKRISHNA JAYAPAL
2 VICE PRESIDENT - NEEHARA R NAIR
3 GENERAL SECRETARY - KIRTANA S NAIR
4 RECORDING SECRETARY - ANASWARA RAJ
5 CORRESPONDING SECRETARY - KARTHIKA GOPAN
6 TREASURER - AKHILNATH AS
7 EVENT COORDINATOR - ANU ALEX
8 EVENT CO-ORDINATOR - AHINA NASIMUDDIN
9 EVENT COORDINATOR - AJINA A
10 PRINT MEDIA AND PHOTO - SWAROOP J KESAV
11 MEMBERSHIP COMMITTEE - GOPIKA SURESH
12 SOCIAL ACTIVITY COMMITTEE - ANZILA SN
13 PUBLICITY COMMITTEE - AKSHAY JAYAKUMARAN NAIR
14 FUND RAISING COMMITTEE - MEGHA V
15 COMMUNITY SERVICE COMMITTEE - NOUSHEEN SHIHAB
16 EVENTS HEAD - SHREYA ANILKUMAR
Newsletter Volume 2021-1 Date: 31st August 2021
Click here
Newsletter Volume 2021-2 Date 31st December 2021
Click here