Bhoomithra Sena Club
Bhoomithra Sena Club is formed with support from Directorate of Environment and Climate Change, Government of Kerala. It aims at encouraging students to appreciate the environment and to react positively to environmental issues. The club organizes talks, seminars, painting competitions etc. on current environmental problems. The other activities include planting trees in the college campus and maintaining them, thereby strengthening the commitment of students towards environmental protection.
As a part of the celebration of the World Ozone Day, the Department of Civil Engineering initiated Bhoomithra Sena club in Marian Engineering College. The club was inaugurated on September 17th, 2018 by Prof. Dr. D. Thankamony, Retired Professor, College of Engineering, Trivandrum.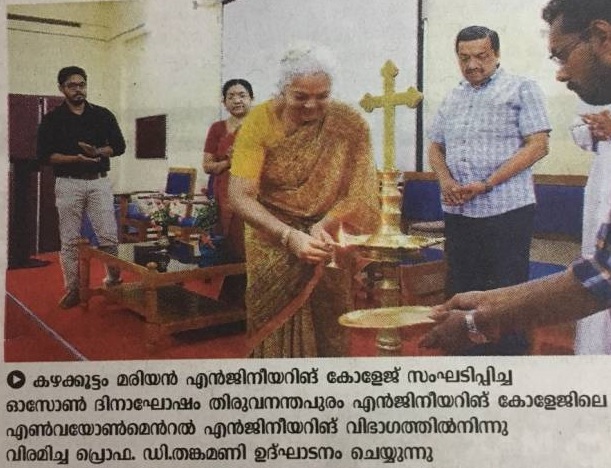 The office bearers of Bhoomithra Sena Club are:
| | |
| --- | --- |
| Convener | Deepthi Dennison, Assistant Professor, CE |
| Students coordinators | 1. Jayakrishnan Jayapal (VIII Semester B.Tech) |
Highlights 2019-2020
The Bhoomithra Sena Club participated in "Suchitwa Sangamam 2020' organized by Haritha Kerala Mission, an initiative by Govt. of Kerala in association with Suchitwa Mission on 21st January 2020 held at Suryakanthi ground, Kanakakunnu, Trivandrum. The Bhoomithra Sena Club members attended the lectures pertaining to modern methods of waste disposal and eco-friendly alternatives to plastics. The students also visited the exhibition set up by various govt. and non-governmental organisations.

Visit to Exhibition organised by Haritha Kerala Mission
"ONE STUDENT ONE TREE" Bhoomithra Sena Club initiative to plant trees in college premises was inaugurated by Dr. S Narayanan (HOD, Department of Civil Engineering) on 30th August 2019.

Planting tree sapling for a greener earth
Highlights 2018-2019
An Intercollege General Quiz competition 'Jalnix' in observance of World Water Day celebrations on 22nd March 2019 was organized by the Club.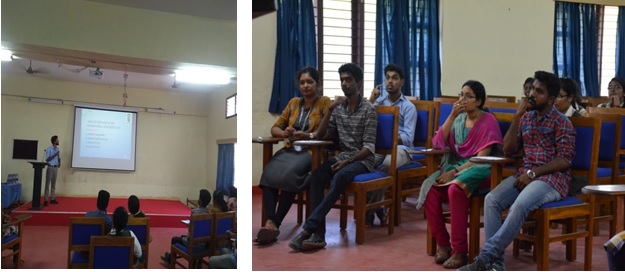 Quiz competition 'Jalnix' conducted as a part of the World Water Day celebrations
Bhoomithra Sena Club organized an expert talk by Mr.Pramod P.P, IFS, Conservator of Forests (SA & NO) and Director of Ecotourism in observance of 'World Forestry Day' on 21st March 2019.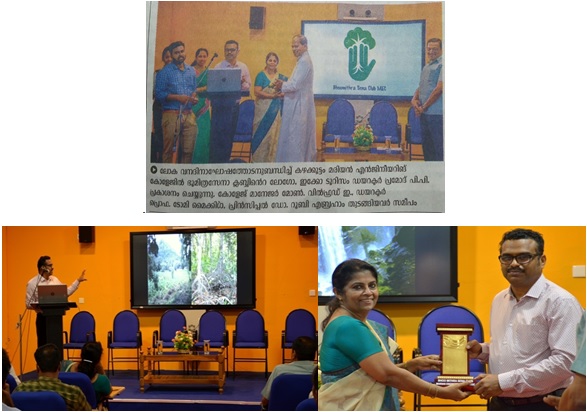 (i) Expert talk by Mr.Pramod P.P., IFS on 'World Forestry Day' (ii) Principal presenting memento to Mr.Pramod P.P
In observance of World Forestry Day, Bhoomithra Sena Club organised an inter school painting competition with the theme "Forest of My Dreams" on 21st March 2019.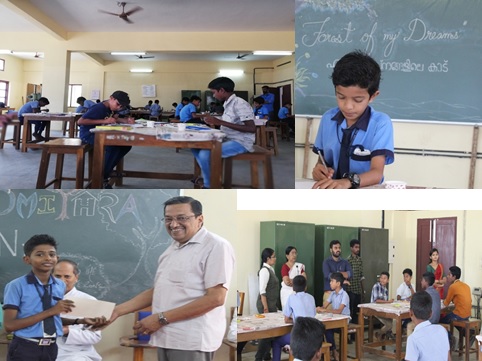 AraNya', Painting competition for school students organized by Bhoomithra Sena Club
A poster Designing competition, "ANAHITA" for Marian Engineering College students was conducted by Bhoomithra Sena Club on 21st March 2019, with the theme 'Water and Life'.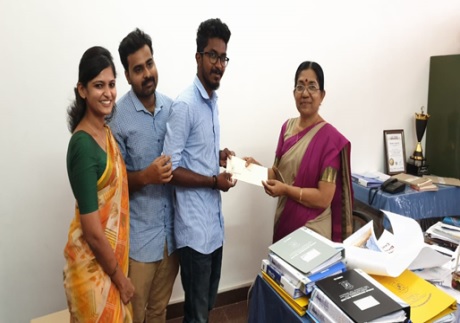 Prize winner of 'ANAHITA', Poster Design Competition
The planting of saplings in college campus was held as a part of Bhoomithra Sena club activities on 7th January 2019. Very Rev. Msgr. Wilfred E (Manager), Prof. Tomy Michael (Director), Dr. Ruby Abraham (Principal) and Rev.Fr. Reny Rudolf (Bursar) led the planting of saplings.

Planting of seedlings in the Civil Engineering Department
An environmental field trip was arranged for club members of VII semester on 4th November 2018 to Kollakal Thapovanam, 4.5 acres ancestral property transformed artificial dense forest owned and maintained by Smt. Devaki Amma, recipient of Indira Priyadarshni Vrikshamitra award and her daughter Prof. D.Thankamony, Retired Professor, CET.

(i)Field Trip to to Kollakal Thapovanam (ii)Prof D.Thankamony, interacting with students