Research & Industry Interaction Cell
RESEARCH AND INDUSTRY INSTITUTE INTERACTION CELL (RIIIC) was constituted on 18.12.2020 by merging the RESEARCH AND DEVELOPMENT CELL (RDC) and INDUSTRY INSTITUTE INTERACTION CELL (IIIC) with Dr Narayanan S as Convenor and other members were Dr Berlin Seva Rex, Dr Manoj M., Dr Sheeja Agustin, Dr Vijayalekshmy, Dr Jayaprakash P., Dr Archana Satheesh and Dr Vishnu B.R.
MEMBERS OF THE INDUSTRY INSTITUTE INTERACTION CELL
The RIIC cell members were reaffirmed on 15.3.2021
| Sl.No | Name of Member | Post /Designation |
| --- | --- | --- |
| 1. | Dr Narayanan S | Convener |
| 2. | Dr.Manoj.M | Convener ,IEDC |
| 3. | Dr Berlin Seva Rex | Member, Mechanical Engg. |
| 4. | Dr Vijayalekshmy | Member, HoD, EEE |
| 5. | Dr Jayaprakash P | Member, HoD, CSE |
| 6. | Dr Sheeja Agustin | Member, CSE |
| 7. | Dr Archana Satheesh | Member, CE |
| 8. | Dr Vishnu B.R. | Member, ME |
The reports of the activities of the RIIC is available in the link below
RESEARCH AND DEVELOPMENT CELL (RDC)
OBJECTIVES OF RESEARCH AND DEVELOPMENT CELL
To develop research skills among the faculty and students
To promote and to encourage the aspiring students and faculty members to carry out research in the field of science, engineering and technology and publish their findings.
To create zeal among the students towards research and innovation
To organize in-house exhibition, Innovation and technology contest for identifying entrepreneurial skills for our students.
To identify potential projects/sources of funds for student and faculty.
The reports of the activities of the R&D Cell of the various years are available in the links below.
INDUSTRY INSTITUTE INTERACTION CELL (IIIC)
OBJECTIVES OF INDUSTRY INSTITUTE INTERACTIVE CELL (IIIC)
To cultivate symbiotic relationship between college and industry as well as college and other research institutes.
To help industries to solve their problems through research, training and consultancy.
To provide ample opportunities for industry exposure to students and faculty through industry visits, summer internship and industry projects
To Establish Convergence With Industrial And Research Organizations From Various Fields Through MOUs As A Form Of Interaction.
Participation of experts from industry in curriculum development.
Arranging visits of staff members to various industry
The reports of the activities of the IIIC of the various years are available in the links below.
DEPARTMENT LEVEL MOU WITH INDUSTRIES
1.Department of Electronics and Communication signed MoU with ACCUBITS TECHNOLOGIES (GLOBAL DEVELOPERS OF AI, BLOCKCHAIN) as Centre of Excellence in AI& ML on 27th January 2021
2. Department of Electrical & Electronics Engineering signed MOU with OTTOTRACTIONS,Electric utility company in Thiruvananthapuram, Kerala.
3.Department of Computer Science & Engineering signed MOU with Polosoftware,Technopark Trivandrum.
4. Civil Engineering Department signed MOU with The Kerala State Nirmithi Kendra (KESNIK), a pioneering organization in the practice and propagation of Cost Effective and Environment Friendly construction techniques.
EMINENT PERSONALITIES WHO VISITED THE CAMPUS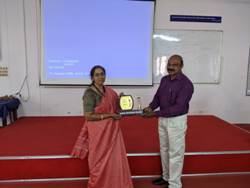 Talk by Ms.Ananthalakshmi Ammal, Senior Director and Group Head Cyber Security CDAC on 19/02/2020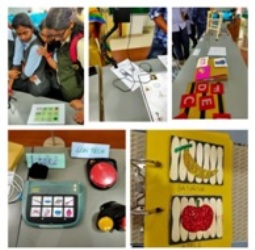 An Industry Institute Interaction at NISH was held on 06/02/2020 by the Department of Electronics & Communication.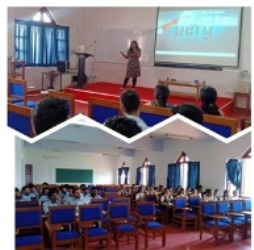 An Expert talk on Artifical Intelligence on 03/02/2020 by Ms. Reema Mammen Elizabeth, Researcher in AI, Curve Logistics.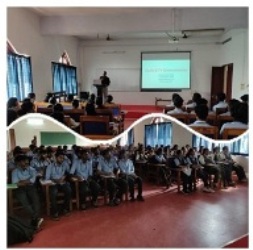 Expert talk on Communication by Shri. Radhakrishna Pillai, IT Cell and Social Media, Doordarshan on 31/01/2020.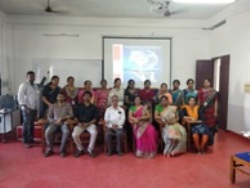 FDP on Block Chain and Applications in IOT from 06/01/2020 to 07/01/2020 by Mr. Sreeraj S., Director of Block Chain, NetObjex.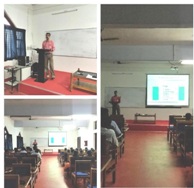 Expert Talk on Optical communication by Mr. HariKumar on 21/11/2019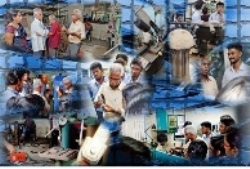 Industrial visit to OKA Basu's Metal Technologies , KINFRA Parks on 21/11/2019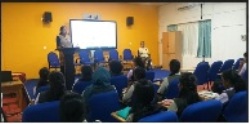 Dr. Akila Surendran , Senior Engineer, Assistive Technologies , NISH addressing the students on 04/11/2019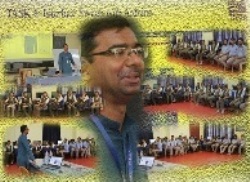 Workshop on interfacing Real Time Sensors with Microcontroller by Mr. Shino G.Babu, Director , TIERA on 02/11/2019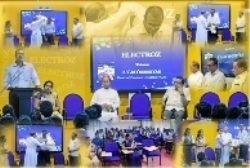 Honoring our Alumni Mr. Jayasooryan K.V., Head of Product , CARESTACK on 25/10/2019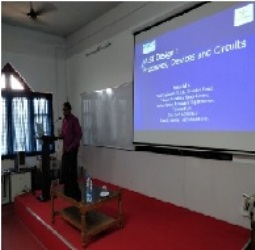 Association Inaguration by Dr. Sreelal Sreedharan Pillai , Section Head, Basband Systems Electronics Division (BSED), DGS, Avionics Entity, VSSC on 30/10/2019
Industry Interactions under Placement Cell
1.Wipro IoT Hackathon
Three of our S6 students ( Arjun Babu, Gokul Krishna and Sreelekshmi) had the opportunity to be invited for a IoT Hackathon by Wipro held at Wipro Kochi.
We were the only college to be invited from Trivandrum region.
2.Sheores Summit 2018
Six of our girls students were nominated to attend Sheroes Summit 2018 at UST Global Trivandrum Campus held on December 2018.
3.Visit to UST Global Campus
100 students from final year visited UST global Trivandrum – Infinity Lab. Presentation was provided regarding ongoing research activities at UST Global.
4.Session by Shri. Balagopal, Founder Terumo Penpol
A Guest session was delivered by Shri. Balagopal, founder at Terumo Penpol. E discussed in details about blood bag manufacturing process, business challenges and talent related expectations
5.Session by H&R Block
A company presentation by H&R block HR Team on the company, projects being done and talent related expectations was delivered by H&R Block Team. H&R Block is a NASDAQ listed company having office in Technopark.
6.Session by Build Next
Team from BuildNext – a ecommerce portal for building materials was presented a guest session on challenges on online platform for selling for Civil final year students.
7.Quest Global Visit
Marian facilty members along with the Third Year students visited Quest Global Campus and had and interactive session with senoir domain experts on 24 January 2020.
8.Infosys Visit
The Management and faculty members of Marian visited the Marian Infosions at Infosys, Trivandrum campus on 4 February 2020.
Industry Interactions under Entrepreneurship Development Center (IEDC)
1.One day orientation program for IEDC members on the significance of Start Up Eco system in India. The session was handled by Founder CFO of Techno Park, Trivandrum, Dr. K.C. Chandrasekaran Nair.
2.With a view of invoking the support from the Faculty Community for developing an Ecosystem which promotes students for innovation and entrepreneurship activity, a Faculty Development Programme on "Significance of Research and development "was organized for entire faulty community of Marian Engineering College on 19th & 20th July 2017.
3.For generating awareness and to support them in writing proposals, IEDC organized a one day workshop on Science Popularization Schemes of Kerala State Council for Science Technology and Environment (KSCSTE) on 3rd August 2017.
4.A one day workshop on Waste management & Zero Energy – Zero Discharge Buildings was conducted for Civil Engineering Department of Marian Engineering College on 10th January 2018. The program was jointly organized and funded by Kerala State Nirmithi Kendram. 100 participants attended the training.
5.The Two day workshop on "Design Thinking" was organized by Kerala Start Up Mission at Marian Engineering College, Trivandrum on 20th & 21st February 2018
6.Education & Entrepreneurship (EDEN) – 2k 18 was conducted from 25th to 28th January 2018. It was a four day residential workshop for students across the state. 380 students participated in the event.