Student Welfare Committee
Student Welfare Committee endeavours to help a student's educational process to advance their academic as well as personal abilities. The committee works for the overall welfare of the student in terms of student development which consist of student development program ,student publication, counselling of the students, co curricular activities and many more. The committee organises various events and workshops to enhance the skill set of students like Talk Show, Workshops, Debate Competition, Quiz Competition, Painting competition and Photography competitions
OBJECTIVES
Listening to student's problems and understanding what is required for their development in any manner.

Assisting the students in their learning process which includes not just academics but also the practical learning experience.

Conducting periodic meetings to talk over student welfare. Various co curriculum activities, facilitating student interests are organized for personality development of students.

Building a true entrepreneur in students and making them fit enough to co ordinate events in both college and inter-college levels.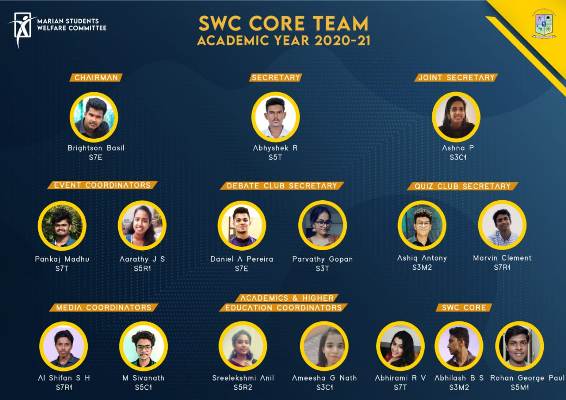 Testimonials
SWC Chairman (2018 -19 ) Achievement Click Here
Student Welfare Committee Magazine Click Here
Epzlon - Technical E- Magazine 2020 Click Here
Members of Student Welfare Committee
STAFF COORDINATOR
Sumitra.k, Assistant Professor , EEE Dept (Convener)
MinnuJayan , Assistant Professor , ECE Dept
Sanobia, Assistant Professor, Civil Dept
Rahul.R.S , Assistant Professor, Mechanical Dept
Nishley Joseph, Assistant Professor ,Computer Science Dept
AnanswaraJohny, Assistant Professor ,Maths Dept
Sr.Mercy Mathew
Sr.Celine Joseph, Counselor
Ms.Marykutty R., Counselor
STUDENT COORDINATORS
Mr.Brightson Basil , EEE Dept (Chairman)
Mr.Abhyshek R ,EC Dept (Secretary)
Ms. Ashna P ,CE Dept(Joint Secretary)
Event Co-ordinators
Pankaj Madhu ,EC Dept
Ms .Aarathy J S ,CS Dept
Debate Club Secretary
Daniel A Pereira ,EEE Dept
Ms .Parvathy Gopan ,CS Dept
Quiz Club Secretary
Ashiq Antony ,ME Dept
Marvin Clement ,CS Dept
Media Coordinators
Al Shifan S H ,CS Dept
M Shivanath ,CE Dept
Academics & Higher Education Coordinators
Sreelekshmi Anil ,CS Dept
Ameesha G Nath ,CE Dept
SWC Core
Abhirami R V,EC Dept
Abhilash B S,ME Dept
Rohan George Paul ,ME Dept
EVENTS CONDUCTED IN THE YEAR 2019-20 Report
IDP Session on "Higher Education in European Countries (26/08/2019).
Inaguration of Students Welfare Committee (AY 2019-20) by Sri. P.Prakash (30/08/2019).
Essay Writing Competition on Gandhi Jayanti (04/10/2019).
Debate Competition (Malayalam) (11/10/2019).
Qurio 2019 (11/10/2019).
Civil Service Preparation Programme (20/01/2020).
Visit to Exhibition at Nishagandhi Organised by Haritha Kerala Mission (21/01/2020).
Asthra - Quiz Competition for school students (26/01/2020).
Debate (English) (31/01/2020).
Idea Presentation (20/02/2020).
Talk Show by Mr. Gokul Ramanan (alumni, EEE) (05/03/2020).
" Save Life Serve Humanity" - Covid 19 an initiative by Marian Students Welfare Committee (07/06/2020)
UPCOMING EVENTS
Photography Exhibit
Mini Hackathon
Mock Interview training
Orator Competition
Workshops
Group Discussion
Paper Presentation
Brainstorming event
Idea Pitching
EVENTS CONDUCTED IN THE YEAR 2018-19 Report
Talk show on 'Cyber security' by E.Shareefuddin IPS.
Session on 'Higher education and Career Opportunities in European countries' by Rajesh Waidyar.
Session on 'Higher Education opportunities in Australia' by IDP.
Session on 'Higher education in management and importance of aptitude training' by TIME Institute.
Debate competition involving students from all depts.
Photography Exhibition.
Quiz Competition
Student Welfare Committee Valedictory Function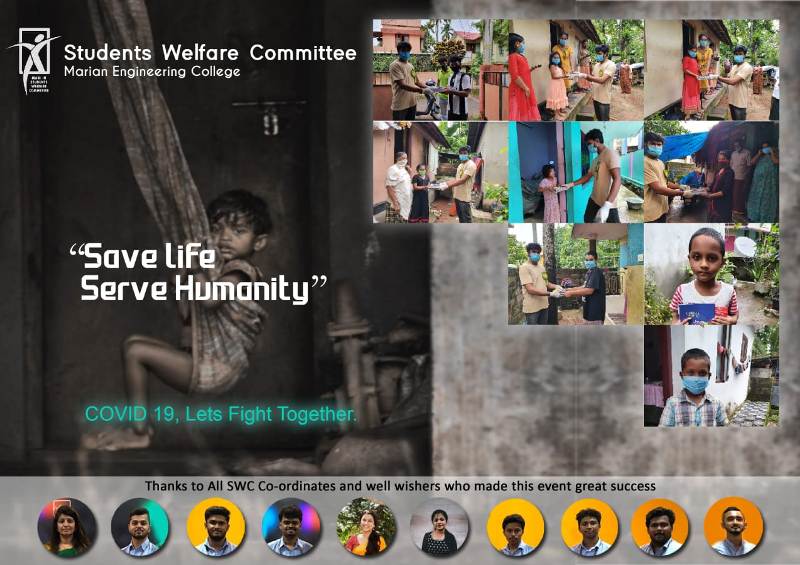 Save Life Serve Humanity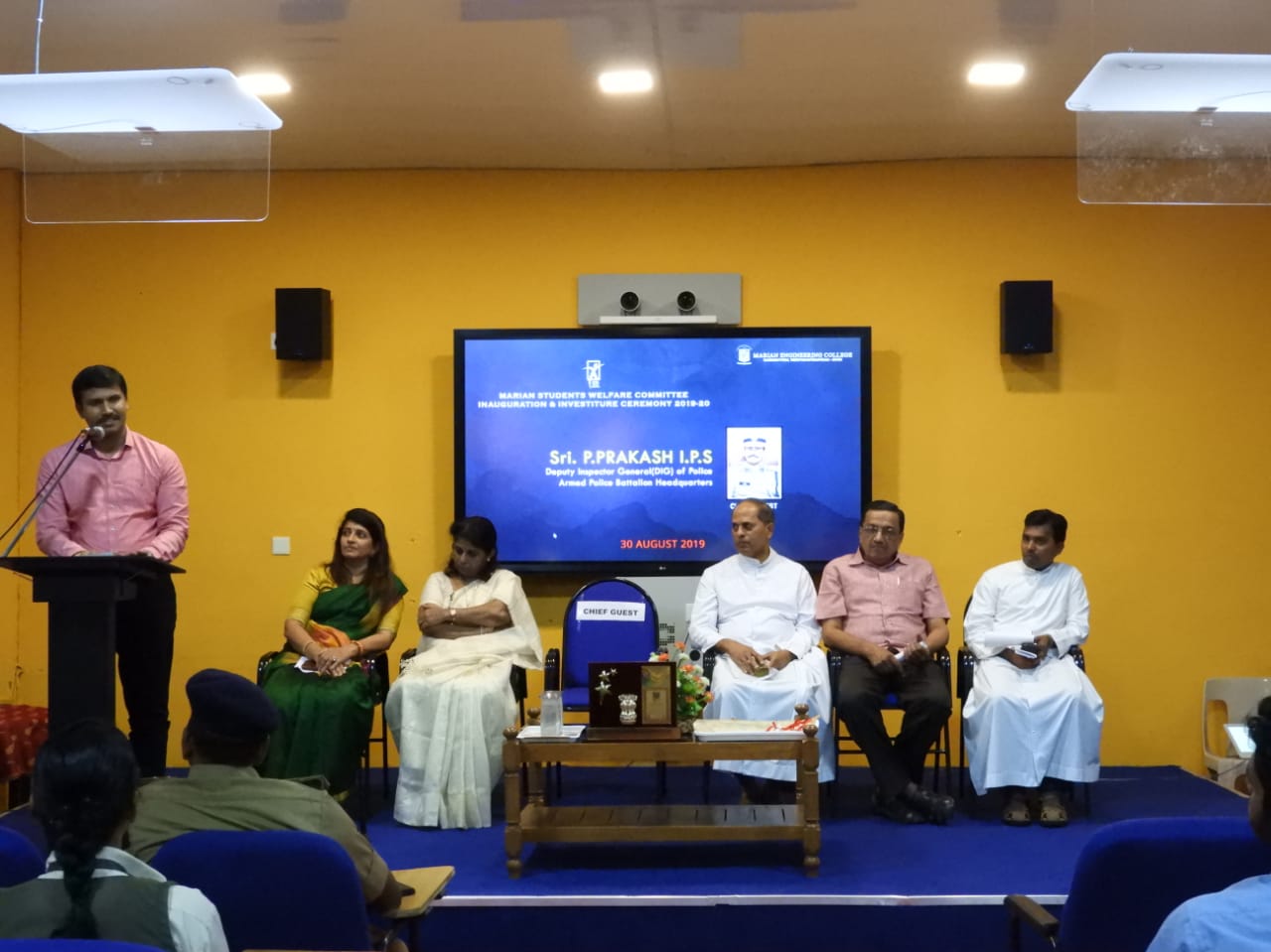 Inaguration of Students Welfare Committee (AY 2019-20) by Sri. P.Prakash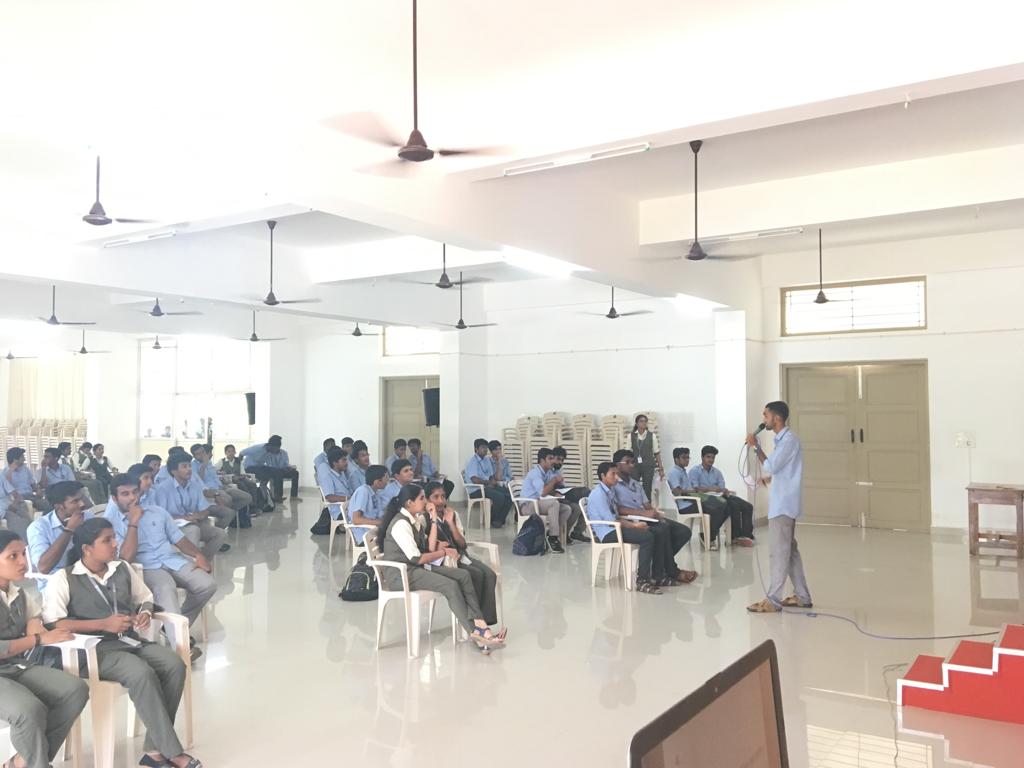 Quiz Competition