Student Welfare Committee
Student Welfare Committee endeavours to help a student's educational process to advance their academic as well as personal abilities. The committee works for the overall welfare of the student in terms of student development which consist of student development program ,student publication, counselling of the students, co curricular activities and many more. The committee organises various events and workshops to enhance the skill set of students like Talk Show, Workshops, Debate Competition, Quiz Competition, Painting competition and Photography competitions
OBJECTIVES
Listening to student's problems and understanding what is required for their development in any manner.

Assisting the students in their learning process which includes not just academics but also the practical learning experience.

Conducting periodic meetings to talk over student welfare. Various co curriculum activities, facilitating student interests are organized for personality development of students.

Building a true entrepreneur in students and making them fit enough to co ordinate events in both college and inter-college levels.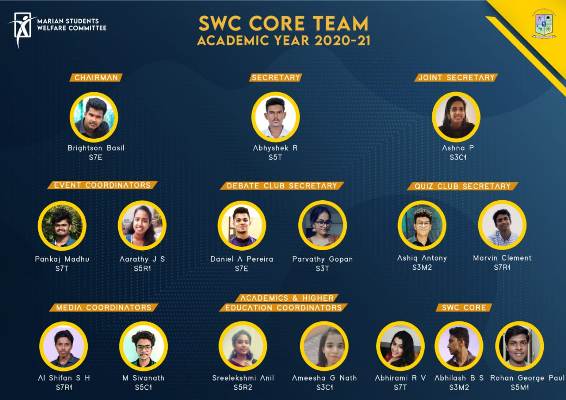 Testimonials
SWC Chairman (2018 -19 ) Achievement Click Here
Student Welfare Committee Magazine Click Here
Epzlon - Technical E- Magazine 2020 Click Here
Members of Student Welfare Committee
STAFF COORDINATOR
Sumitra.k, Assistant Professor , EEE Dept (Convener)
Preetha S L, Assistant Professor, ECE Dept
Dr.Vishnu B R , Assistant Professor, ME Dept
Ann MAthew, Assistant Professor ,ECE Dept
Dr.Archana Satheesh, Assistant Professor, CE Dept
Dhanya Mathew, Assistant Professor ,ECE Dept
Lekha V L, Assistant Professor ,Maths Dept
Sr.Mercy Mathew
Sr.Celine Joseph, Counselor
Ms.Marykutty R., Counselor
STUDENT COORDINATORS
Mr.Brightson Basil , EEE Dept (Chairman)
Mr.Abhyshek R ,EC Dept (Secretary)
Ms. Ashna P ,CE Dept(Joint Secretary)
Event Co-ordinators
Pankaj Madhu ,EC Dept
Ms .Aarathy J S ,CS Dept
Debate Club Secretary
Daniel A Pereira ,EEE Dept
Ms .Parvathy Gopan ,CS Dept
Quiz Club Secretary
Ashiq Antony ,ME Dept
Marvin Clement ,CS Dept
Media Coordinators
Al Shifan S H ,CS Dept
M Shivanath ,CE Dept
Academics & Higher Education Coordinators
Sreelekshmi Anil ,CS Dept
Ameesha G Nath ,CE Dept
SWC Core
Abhirami R V,EC Dept
Abhilash B S,ME Dept
Rohan George Paul ,ME Dept
EVENTS CONDUCTED IN THE YEAR 2021-22 Report
Debugging competition on June 16 2022
The Brainiac 2.0 was conducted on 4th of June 2022
Portrayal of women in Indian Cinema - WIE on May 30 2022
Doodle Art Competition -WIE on May 30 2022
Tejasvi workshop Digital Marketing SEO (PACELAB) on May 14 2022
Poster making competition - PES from 3rd to 4th February 2022
Arts Festival on 12/05/2022
College Day on 13/05/2022
Tejasvi on 14/05/2022
Debate competition on 6 th Februvary,2022.
Valorant tournament an online match between multiple teams on 2nd January 2022.
Power Quiz on 31 st Oct 2021
Laghaz Technical Quiz IEEE day- on Oct 5 2021
Business Administration Workshop on 12 September 2021
IoT & Robotics Workshop on 11 September 2021
Workshop on AI on 22 May 2021
Aadya- Women Empowerment Ideathon on 17 Aug 2021
Meme O Mania : Meme-making competition on May 7th 2021
Doods : Doodle art contest on May 7th 2021
Ink !t: article writing competition on May 5 2021
Snapshot: Video compilation events on May 6 2021
YP talks on career in the software field without programming on Dec 19 2021
Brush up: Digital Painting Contest on March 7
YP talks on automated guided robots-`on Apr 24
Geotecnico: Quiz for earth day - on Apr 29
YP talks on insights on approaching placements on May 25
Start Action Cut : Promo making competition on May 30
Esthetico : Poster designing competition from June 1st to 5th
Drop A Line : Technical writing competition on June 13
Webinar on Infinite possibilities of GATE and job opportunities in association PSU on PSU on June 26
Christmas celebration - Christmas Eve celebrated on 26th Dec 2021
"Career Path an Interview competition conducted on 18th December 2021
Debate competition conducted on 3rd December 2021
TechExpose was an online paper presentation competition conducted on 4th December 2021
GENESIS conducted on 22nd November, 2021
Membership drive Events 2021 - sepetember 2021
IEEE orientation day on Sep 4 2021
YP Talks on Student membership benefits of IEEE on Sep 5 2021
Introduction to IEEEXTREME on Sep 12
Talk on a crime against nature nuclear energy on Sep 16
IEEE day quiz on Oct 5 2021
Teacher's Day celebrated on Sep 5th 2021
Onam Celebration - "E-ONAM VEETILERUNNONAM". on 22nd and 23rd August 2021.
EVENTS CONDUCTED IN THE YEAR 2020-21 Report
Promotional video (12/08/2020).
Onam Celebration (29/08/2020 to 31/08/2020).
Webinar on " Importance of communication skills for Engineering students " by Prof . Sumitra .K, Staff coordinator, SWC (05/09/2020).
Elocution competition (08/09/2020).
PRESENT EXTREMA - presentation competition (10/09/2020).
Quiz competition (29/10/2020).
Debate competition (30/10/2020).
REVERD- RJ Hunt (21/11/2020).
Christmas Celebration (26/12/2020).
Quiz(17/01/2021).
CRACK IT ( 15/04/2021 & 18/04/2021).
Debate competition (29/05/2021 & 30/05/2021).
Elocution competition (03/06/2021).
Crack It-2.0 (06/06/2021).
BRAINIAC - hackathon competition (13/06/2021).
EVENTS CONDUCTED IN THE YEAR 2019-20 Report
IDP Session on "Higher Education in European Countries (26/08/2019).
Inaguration of Students Welfare Committee (AY 2019-20) by Sri. P.Prakash (30/08/2019).
Essay Writing Competition on Gandhi Jayanti (04/10/2019).
Debate Competition (Malayalam) (11/10/2019).
Qurio 2019 (11/10/2019).
Civil Service Preparation Programme (20/01/2020).
Visit to Exhibition at Nishagandhi Organised by Haritha Kerala Mission (21/01/2020).
Asthra - Quiz Competition for school students (26/01/2020).
Debate (English) (31/01/2020).
Idea Presentation (20/02/2020).
Talk Show by Mr. Gokul Ramanan (alumni, EEE) (05/03/2020).
" Save Life Serve Humanity" - Covid 19 an initiative by Marian Students Welfare Committee (07/06/2020)
UPCOMING EVENTS
Photography Exhibit
Mini Hackathon
Mock Interview training
Orator Competition
Workshops
Group Discussion
Paper Presentation
Brainstorming event
Idea Pitching
EVENTS CONDUCTED IN THE YEAR 2018-19 Report
Talk show on 'Cyber security' by E.Shareefuddin IPS.
Session on 'Higher education and Career Opportunities in European countries' by Rajesh Waidyar.
Session on 'Higher Education opportunities in Australia' by IDP.
Session on 'Higher education in management and importance of aptitude training' by TIME Institute.
Debate competition involving students from all depts.
Photography Exhibition.
Quiz Competition
Student Welfare Committee Valedictory Function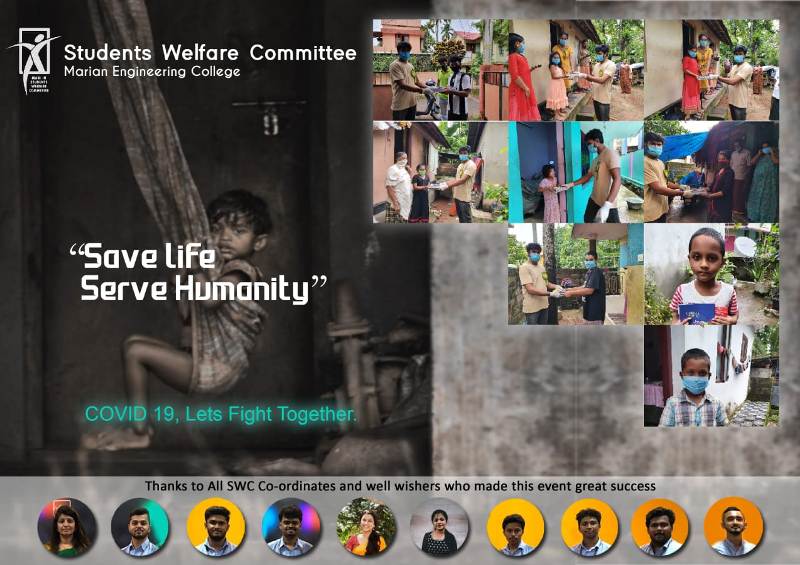 Save Life Serve Humanity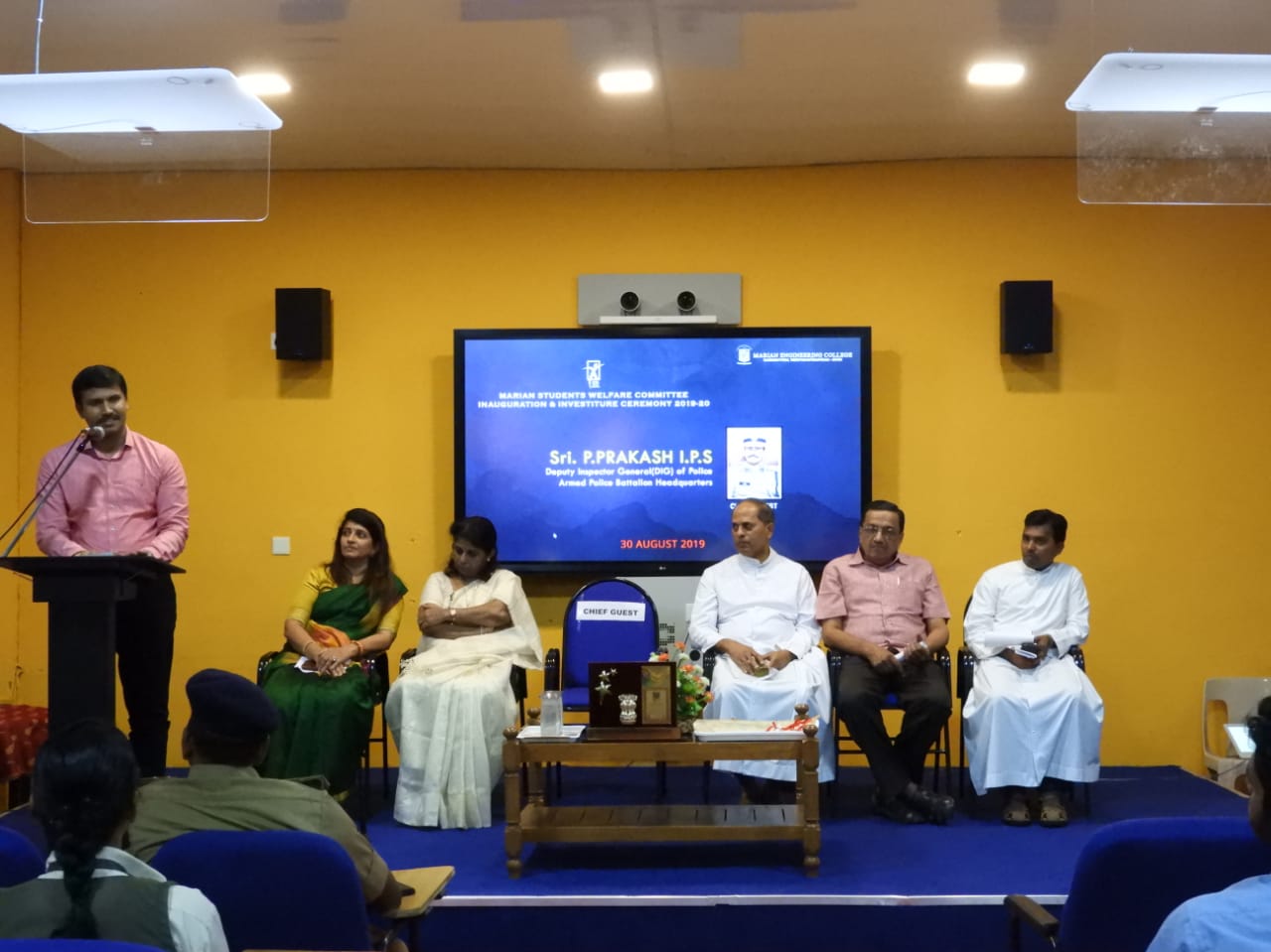 Inaguration of Students Welfare Committee (AY 2019-20) by Sri. P.Prakash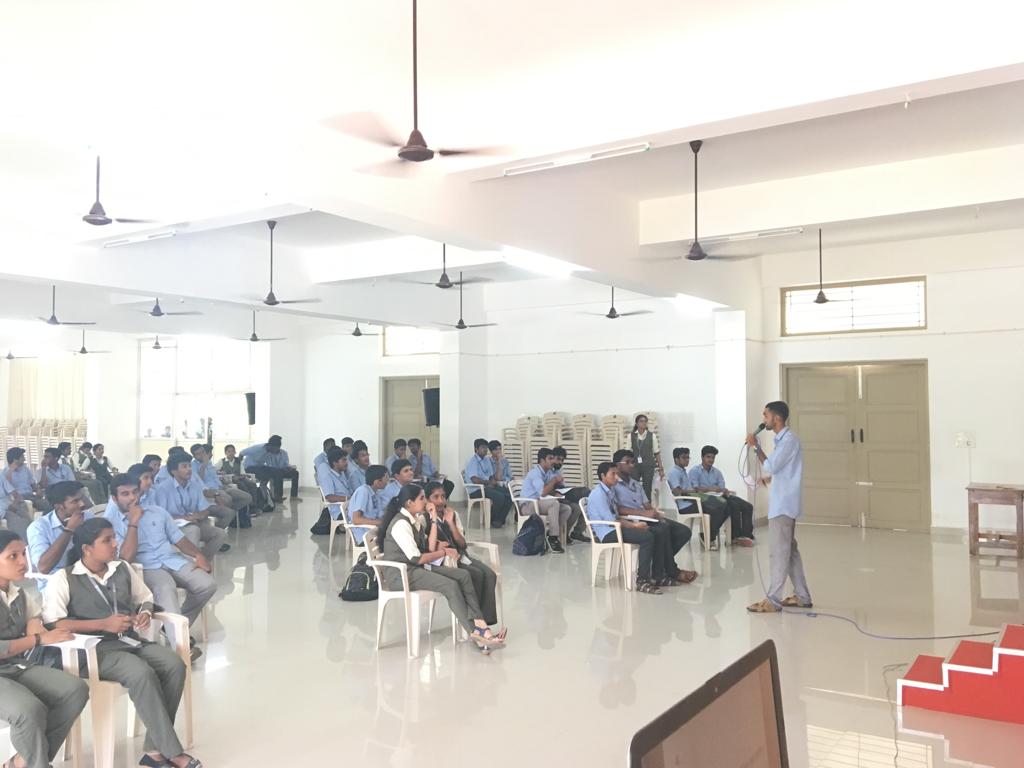 Quiz Competition